Product information

SPACAP™(Lid Material)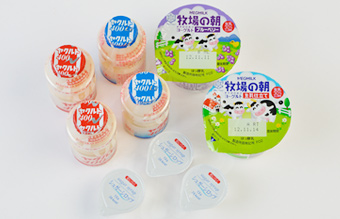 We perform printing and laminating suitable for contents and produce composite material, mainly for food.
About the heat sealable materials, we have the many variety of selection that suit the containers and production conditions of customers.
Almic-Can™(Aluminum / Resin Composite Material)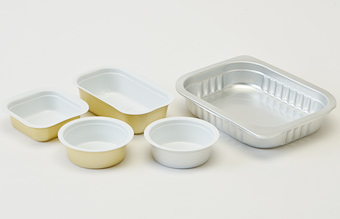 We produce and sell the sealable, or non-sealed containers using the aluminum foil.
Espacially the sealable containers are widely used for the gifts (dessert), the care food or the disaster food.
Because our sealable containers do not let gas and light go through, preservation ability is very high.
Especially Almic-Can™ have high performances about "easy-open" and "sealing" , and get the support of many custmers.
List of Almic-Can™ size
Name
Diameter
(mm)
Neck
(mm)
Height
(mm)
Round shape
40cc Almic-Can™
(flat bottom)
59
50.5
23
43cc Almic-Can™
(dome-shaped bottom)
59
50.5
28.1
50cc Almic-Can™
80
66
16.8
65cc Almic-Can™
80
66
22.3
75cc Almic-Can™
80
66
26.0
84cc Almic-Can™
80
66
29.8
64cc Almic-Can™
71.5
62.5
24.5
64.5cc Almic-Can™
73.8
64.2
24.0
103cc Almic-Can™
73.5
61
43.0
200cc Almic-Can™
120
101
29.1
250cc Almic-Can™
106.5
93.5
42.0
Corner type
70cc Almic-Can™
76
62
22.0
80cc Almic-Can™
(89±2)×89
80×80
26.0
142cc Almic-Can™
(72±2)×(117±2)
105×60
28.0±1

SPALF™(Packaging Material for Lithium Ion Battery)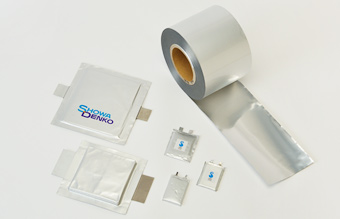 Aluminum laminated film SPALF™ is a composite of aluminum foil and resin film, and it is used as the pouch for LIB.
Because it is more flexible in molding, is more lightweight and has the better heat radiation characteristics than a metal-can, it is being used as the casing of small size LIB for the portable devices such as smartphone, tablet PC and notebook PC.
It is anticipated that it will be adopted in the large-scale LIB of such as electronic vehicles, and storage batteries in the near future.
VGCF®-H(Carbon nanofiber with high crystallinity)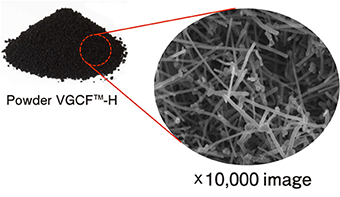 Carbon nanofiber with high crystallinity synthesized with the vapor phase method. Superior in thermal conductivity, electrical conductivity, strength property and slidability (lubricity). Due to its fiber diameter larger than that of carbon nanotube, it can be easily handled (dispersion, etc.) and used for wider purposes.
Characteristics
With an extremely small average fiber diameter (150nm), functions as excellent filler with thermal conductivity, electrical conductivity,strength,and slidability.
Chemically stable, with small specific surface area and with minute amount of absorption moisture.
With almost 10 years of mass production performance, quality is stable.