Product information

Cap Seals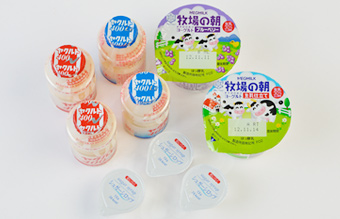 We perform printing and laminating suitable for contents and produce composite material, mainly for food.
About the heat sealable materials, we have the many variety of selection that suit the containers and production conditions of customers.
Aluminum Containers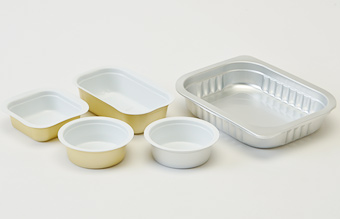 We produce and sell the sealable, or non-sealed containers using the aluminum foil.
Espacially the sealable containers are widely used for the gifts (dessert), the care food or the disaster food.
Because our sealable containers do not let gas and light go through, preservation ability is very high.
Especially Almic-Can™ have high performances about "easy-open" and "sealing" , and get the support of many custmers.
List of Almic-Can™ size
Name
Diameter
(mm)
Neck
(mm)
Height
(mm)
Round shape
40cc Almic-Can™
(flat bottom)
59
50.5
23
43cc Almic-Can™
(dome-shaped bottom)
59
50.5
28.1
50cc Almic-Can™
80
66
16.8
65cc Almic-Can™
80
66
22.3
75cc Almic-Can™
80
66
26.0
84cc Almic-Can™
80
66
29.8
64cc Almic-Can™
71.5
62.5
24.5
64.5cc Almic-Can™
73.8
64.2
24.0
103cc Almic-Can™
73.5
61
43.0
200cc Almic-Can™
120
101
29.1
250cc Almic-Can™
106.5
93.5
42.0
Corner type
70cc Almic-Can™
76
62
22.0
80cc Almic-Can™
(89±2)×89
80×80
26.0
142cc Almic-Can™
(72±2)×(117±2)
105×60
28.0±1

Aluminum Laminated Film SPALF™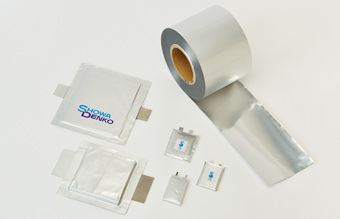 Aluminum laminated film SPALF™ is a composite of aluminum foil and resin film, and it is used as the pouch for LIB.
Because it is more flexible in molding, is more lightweight and has the better heat radiation characteristics than a metal-can, it is being used as the casing of small size LIB for the portable devices such as smartphone, tablet PC and notebook PC.
It is anticipated that it will be adopted in the large-scale LIB of such as electronic vehicles, and storage batteries in the near future.

Clean Bag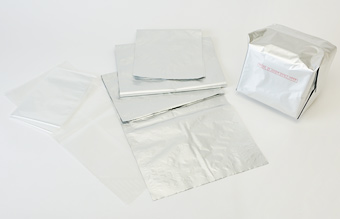 It is the clean bag which is produced entirely in clean rooms from laminating to bag-making.
This bag is mainly used as the package of the silicon wafers. It keeps cleanness of the silicon wafers while they are transported between factories.
Feature
・Cleanliness class <transparent bag for inside>

To prevent any pollution to the silicon wafers or other contents we are always considering which material should be used as the innermost layer.

・High strength <aluminum bag for outside>

The bags are designed to bear the increase of weight due to the increase of diameter of the silicon wafers.

・High barrier performance

Both transparent bags and aluminum bags have the high performance of moisture gas barrier.